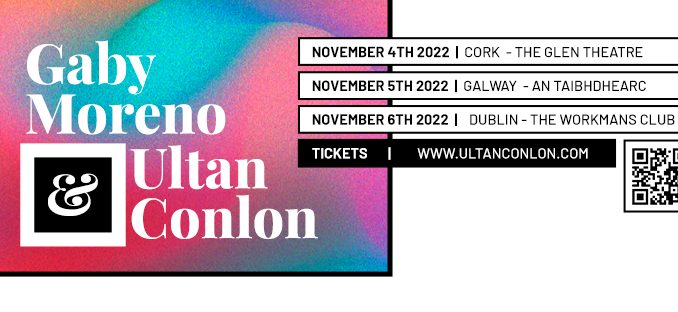 The amazing Gaby Moreno & Ultan Conlon play Ireland in November 2022
"Few musical artists can boast a resumé as diverse of Gaby Moreno's… Her forthcoming seventh album, Alegoría, doesn't figure to disappoint…on the first track, 'Nobody's Wrong,' Moreno leads with a rock punch — slightly countrified, vocally warm and more than a little bit timely."
–Kevin Bronson, Buzzbands.LA, March 11, 2022
About Gaby Moreno:
Since moving to Los Angeles from her native Guatemala, singer-songwriter-producer Gaby Moreno has released six albums, earned a GRAMMY nomination for her album Illusion (Best Latin Pop Album, 2017), received multiple Latin GRAMMY nominations and won a Latin GRAMMY for "Best New Artist" in 2013. Her moving version of the classic song "Cucurrucucú Paloma" was chosen to play at the end of the emotional episode "God Bless America" for the last season of Netflix' original show, "Orange Is The New Black." Over her career, Moreno has shared the international stage with pop music luminaries such as Bono, Andrea Boccelli, Tracy Chapman, Ani DiFranco, Punch Brothers, Hugh Laurie, Buena Vista Social Club, Calexico, David Gray and many more.
Her 2019 album, ¡Spangled! — a collaboration with musician, songwriter and arranger, Van Dyke Parks — is a set of ten songs celebrating the migration of music across the Americas and spans more than a century, including a bolero from Panama, a bossa nova from Brazil, and an elegiac ballad from Southwestern United States. The album features a duet with Jackson Browne and an art cover designed by Klaus Voormann (who designed The Beatles' Revolver cover).
Gaby was also chosen to sing the theme song and voice a character (Marlena) on the multiple Emmy Award-winning Disney children's television series, "Elena of Avalor," which features Disney's first Latina princess. More recently, she composed all the music for the movie "Language Lessons," directed by Natalie Morales and co-written/starring Morales and Mark Duplass.
Galway, Ireland – Irish singer-songwriter ULTAN CONLON found a haven for his unique sound and sensibility in Los Angeles,CA with Nickel Creek's Grammy Award- winning SEAN WATKINS producing Ultan's fourth record, There's A Waltz, which drops on April 17 in Ireland and the UK, and on May 22 throughout the rest of
Europe and the USA.
Ultan first met Sean in LA in 2016 while playing some shows with him at Largo, the nightclub where Sean and Sara Watkins hosted The Watkins Family Hour. Ultan says: "When I met the musicians that Sean brought on board to record my songs and we played the first few bars, I knew this record was gonna make itself, under the influence of Sean navigating us all ever so gently."
That formidable group of musicians includes producer Sean Watkins on numerous instruments;
Don Heffington — Drums (Bob Dylan, Lucinda Williams, Ron Sexsmith); Sebastian Steinberg — Bass, Double Bass (Iron and Wine, Neil Diamond, KD Lang); Gabe Witcher — Fiddle (Paul Simon, Beck); Rich Hinman — Pedal Steel (KD Lang, St.Vincent); Sara Watkins — Backing Vocals (Nickle Creek, I'm With Her); and Tyler Chester — B3, Piano (Jackson Browne, Andrew Bird).
Conlon's poetically-enigmatic songs and "lyrical gems" (No Depression) often stem from his own personal experiences, whether he is reflecting on the dark days of his battle with alcohol addiction ("A Long Way Back"), the isolation incurred by the digital universe ("World from A Window"), anxiety concerning the fate of the world ("A Landslide") or journeying towards self-acceptance and love ("There's A Waltz").
As for the aforementioned "World," Ultan explains the evolution for this song began when his kitten, 'Kitty' was "staring out the window all day and there I was feeling so sorry for her limited life, looking out at birds and cars, and then I noticed myself, stuck on Twitter and Instagram, scrolling at mind- numbing crap. The song expanded from that moment into a realization that many of us are not immune to spending so much of our lives on the windows of one's computers or cell phones."
If there's a melancholy within the observations of "Window", "Sparks of the Divine" brings a more exuberant optimism into the equation with an ode to love:
Turn to me quietly and whisper that you are mine
Break it to me gently like you're telling me for the first time
Not looking for much, but you give me Something Divine
Another stand-out on this collection is "In The Blink of an Eye" which harkens back the death of Ultan's father when Ultan was only 13 years of age and how this experience with death profoundly changed his life forever, and then the song morphs into a couple of other character's points of view, imagining what their trajectories might be.
There's something I just can't get over It might take a lifetime,
Or it might be all gone In the Blink of an Eye
Conlon's voice has been likened by some music writers to Roy Orbison and his writer's voice brings forth original songs that combine depths of feeling, introspection and modesty, as witnessed in "Moments in Time"
…out of the dark I arrive
Though I'm not the traveling kind
With mind on fire it's hardly trailblazing
But along the trail of the same song, his thoughts are illuminated by the…
…Windows to stars that shine in the dark from above Where our love defies
Moments in Time
Where our love resides
Moments in TIme
The title track, "There's a Waltz" surprisingly starts out in 4/4 time, saving the shift into waltz-time only towards the end. As with all of Ultan's songs on this new collection, the rewards, be they deferred or right at hand, bittersweet or joyous, are always reaching to connect to the listener's heart and soul.
Short Bio:
Irish singer-songwriter and guitarist, Ultan Conlon has shared the stage with the likes of John Fogerty, Mavis Staples, Bryan Ferry, John Grant, Eddi Reader, Patty Griffin and Richard Hawley, among others. Ultan has also performed duets with Glen Hansard and John Martyn, and Martyn recorded Ultan's song "Really Gone" in 2004. Many of Ultan's critically acclaimed songs have received extensive airplay in Ireland (RTE Radio 1, Lyric FM) and the UK (BBC). 'There's A Waltz' produced by Grammy Award-winner Sean Watkins, is Ultan's fourth record.