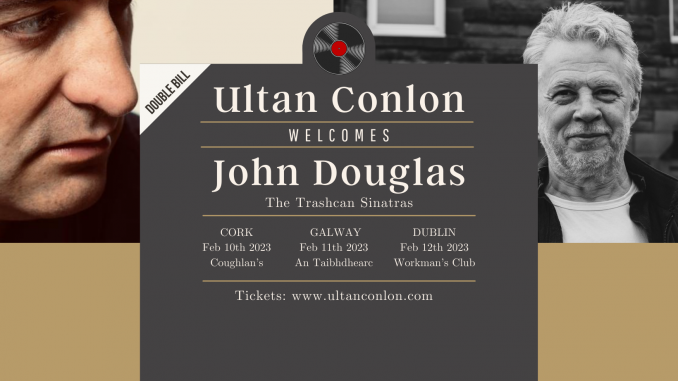 Ultan Conlon 'Welcomes' John Douglas
(Irish Tour)
Hello Folks!
We're a little over a month away! Ultan Conlon 'Welcomes' John Douglas.
Cork (Feb 10th), Galway (Feb 11th) and Dublin (Feb 12th).
John Douglas is one of the main songwriting ingredients in Scotland's Trashcan Sinatras, a band of compadres from the town of Irvine on Scotland's west coast, who have been making music for over 30 years, creating 6 much loved albums. Those records saw John and the band play to audiences all over the world with their idiosyncratic, melodic and lyrical songs ('Weightlifting' 'Hayfever' etc…) John has also co-written songs with his wife Eddi Reader ('Wild Mountainside' 'Maid O' The Loch' etc…) 'and has been part of her touring and recording band for close to 20 years. Eddi's most recent official album release, Cavalier, was co-produced by John & Eddi. John has a wealth of songs to call on for his first foray into solo performances. As he says himself ' I want to see how the songs can bloom with just my voice and my guitar for company'
____________________________________________
Ultan Conlon has shared the stage with the likes of John Fogerty, Mavis Staples, Bryan Ferry, John Grant, Eddi Reader, Patty Griffin and Richard Hawley, among others. Ultan has also performed duets with John C. Reilly and John Martyn, and Martyn recorded Ultan's song "Really Gone" in 2004. Many of Ultan's critically acclaimed songs have received extensive airplay in Ireland (RTE Radio 1, Lyric FM) and the UK (BBC). Ultan's 5th Studio album is due for release in 2023. Recorded and Produced in LA by Grammy Award winning Producer David Garza (Fiona Apple). Ultan Co-wrote 5 of the 10 tracks with Garza. The record was engineered by John Would (Warren Zevon, Fiona Apple..) and features Sebastian Steinberg on bass (Neil Diamond, Fiona Apple, Iron and Wine) and Amy Wood on drums (Fiona Apple).
Eddi Reader guest vocals on the Garza Co-Write 'The Old Songs'. In December Conlon debuted the song live at Largo in Los Angeles accompanied by Hollywood Screen icon John C. Reilly and an all star band including Sean and Sara Watkins (Nickel Creek) and Benmont Tench (Tom Petty & The Heartbreakers).
Tickets are selling fast and are limited!!