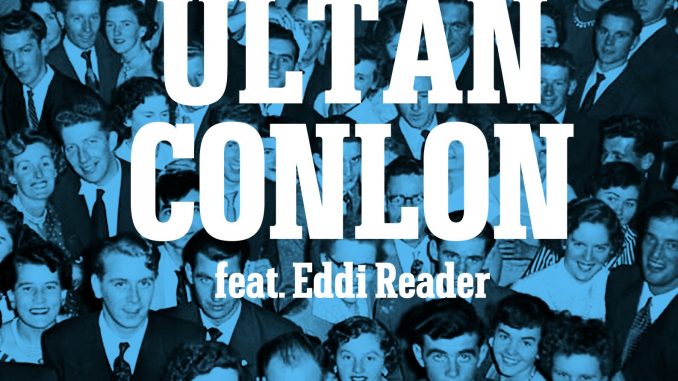 ULTAN CONLON
Announces new album
'THE STARLIGHT BALLROOM'
Produced by Grammy Award-Winner David Garza (Fiona Apple)
Due for release September 13 th 2023.
+ shares first song and video..
'The Old Songs ft. Eddi Reader'
Irish singer-songwriter ULTAN CONLON found a haven for his unique sound and sensibility in Los
Angeles, California, with Grammy Award- winning David Garza (Fiona Apple) producing Ultan's fifth
record, The Starlight Ballroom, which drops on September 13 th , 2023.
Today, Ultan shares the lead song, and accompanying video, "The Old Songs".
The Old Songs is written by Ultan Conlon and David Garza. Conceived during pre-production in Los
Angeles when Garza came up with the rousing balladeer chorus "Who's gonna sing the old songs,
when all the old timers are gone?' Ultan got to thinking about the sessions in his cousin's pub JJ
Hough's in Banagher, Co Offaly. Everyone would get up and sing, sometimes badly but it all sounded
magnificent. No song was discriminated against, if it was catchy it would be sung and all present
would join in. The song represents community and connection with a dollop of humour thrown in for
good measure.
David Garza, a big fan of Fairground Attraction, discovered that Ultan knew Eddi Reader and
immediately asked if they could get her to add her voice to the track. The bar room scene was
lacking a female voice. Eddi added her magnificent brogue, feisty character and trademark theatrical
voice to the track which further enriches this symbolic song.
ABOUT THE ALBUM:
Ultan first met David in LA in 2017 while playing some shows with him at Largo, the nightclub where
Sean and Sara Watkins host The Watkins Family Hour. Ultan says: "When I met David and we played
some songs together I saw his unbridled energy and talent and knew I wanted to work with him" Fast
forward 6 years and The Starlight Ballroom is born.
The formidable group of musicians includes producer and co-writer Garza on numerous
instruments, Amy Wood— Drums (Fiona Apple, Iggy Pop, St Vincent) Sebastian Steinberg
Double Bass (Fiona Apple, Iron and Wine, Neil Diamond, KD Lang) Dave Curtis – Strings and
Programming (Aj Croce). The Starlight Ballroom is engineered and mixed by John Would (Fiona
Apple, Warren Zevon)
Conlon's poetically enigmatic songs and "lyrical gems" (No Depression)
The Starlight Ballroom was a ballroom of romance in Westport, Co. Mayo, which opened in the early
1960's and closed in 1981. Thousands of people would pack into the hall to see local Irish Show
bands and the best international acts of the day. Roy Orbison played The Starlight in 1969 and
Ultan's song The Starlight Ballroom takes in and ponders the night in question.